Public Health Division
The Public Health Division aims to promote, protect, and preserve the health, safety, and wellbeing of the city's residents, workers, and visitors. To accomplish our mission, we will promote health equity so that all those in our community enjoy optimal health; prevent and monitor illness through surveillance of communicable disease, implementation of vaccine clinics, and enforcement of regulations and laws; promote healthy behavior through public health programming including education and outreach; and promote resiliency by assessing and preparing for environmental and public health risks.
In The News
Respiratory Illness Update - 10/16/2023
Extreme Heat- July 26, 2023
Summer Water Quality Advisory - July 12, 2023
West Nile Virus - July 10, 2023
Summer Air Quality - June 30, 2023
COVID-19 Updates
Click on the icon below for the latest updates on current case data, testing and vaccination options and other resources in Revere.
VACCINE CLINICS RESUME IN THE FALL
Board of Health
Meeting Times
Fourth Thursday of every month at 6pm. All past and ongoing Board of Health meetings are available on the RevereTV Youtube Page.
Next Meeting
The next scheduled meeting is November 30, 2023 .
| Member Name | Title |
| --- | --- |
| Drew Bunker | Chair |
| Craig Castanza | Member |
| Nezha Louaddi | Member |
Board of Health Regulations
Mosquito Control
Residents may request spray treatments for mosquitoes by completing a service request form to Northeast Mosquito Control from June 1st to September 30th, from Sunday, 7:00 AM through Wednesday noon for the current week. Please click on the link or scan QR code to submit your service request.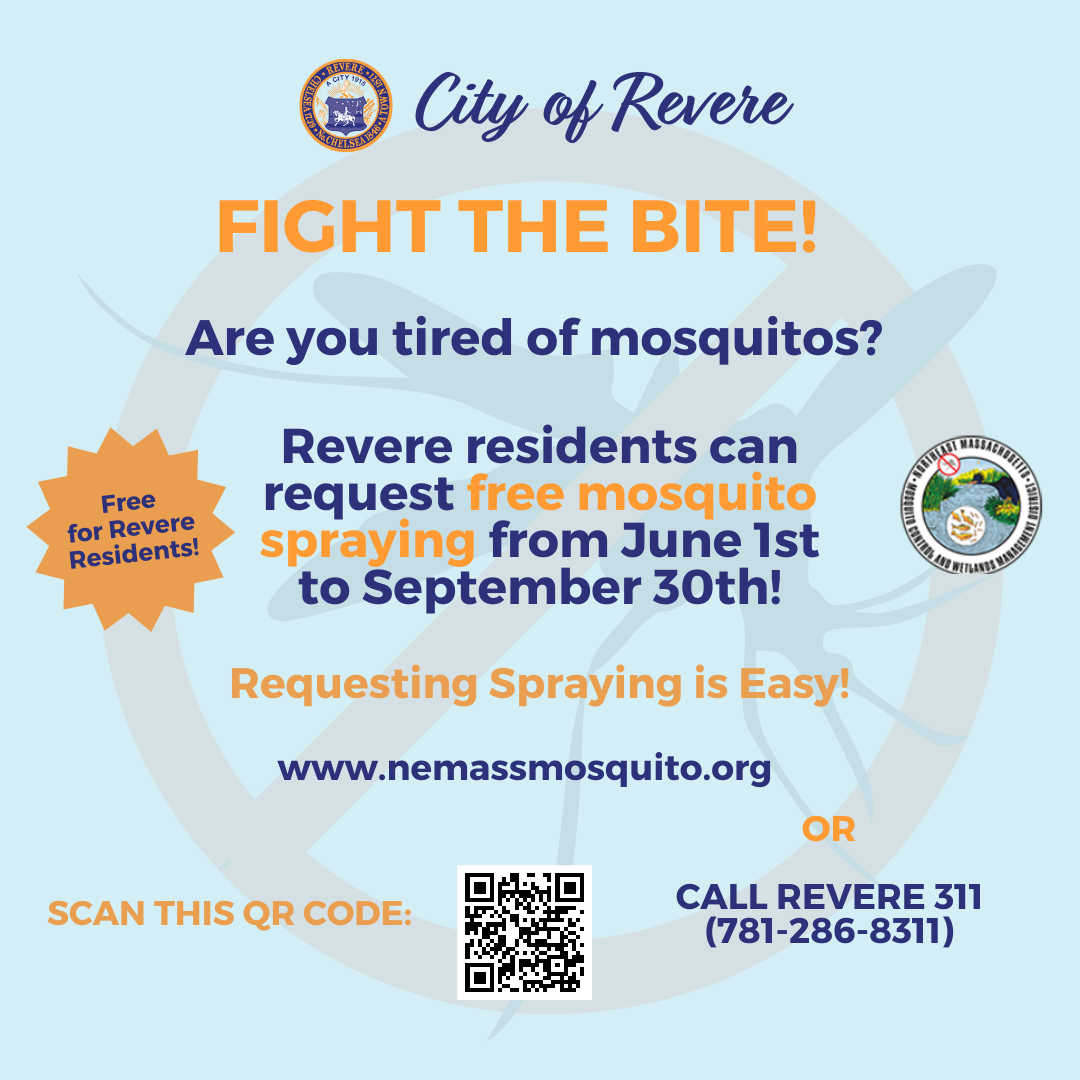 https://www.nemassmosquito.org/home/pages/spray-service-request-form
Contact Information & Hours
Mon. 8 am – 7 pm
Tues. 8 am – 5 pm
Wed. 8 am – 7 pm
Thur. 8 am - 5 pm
Fri. Closed