Department of Planning & Community Development
The mission of the Department of Planning & Development is to create an environment in the City of Revere that is conducive to retaining, growing and attracting businesses and residents, thereby strengthening and revitalizing our neighborhoods and stabilizing and transforming the physical, social, civic and economic environment of our community.
Description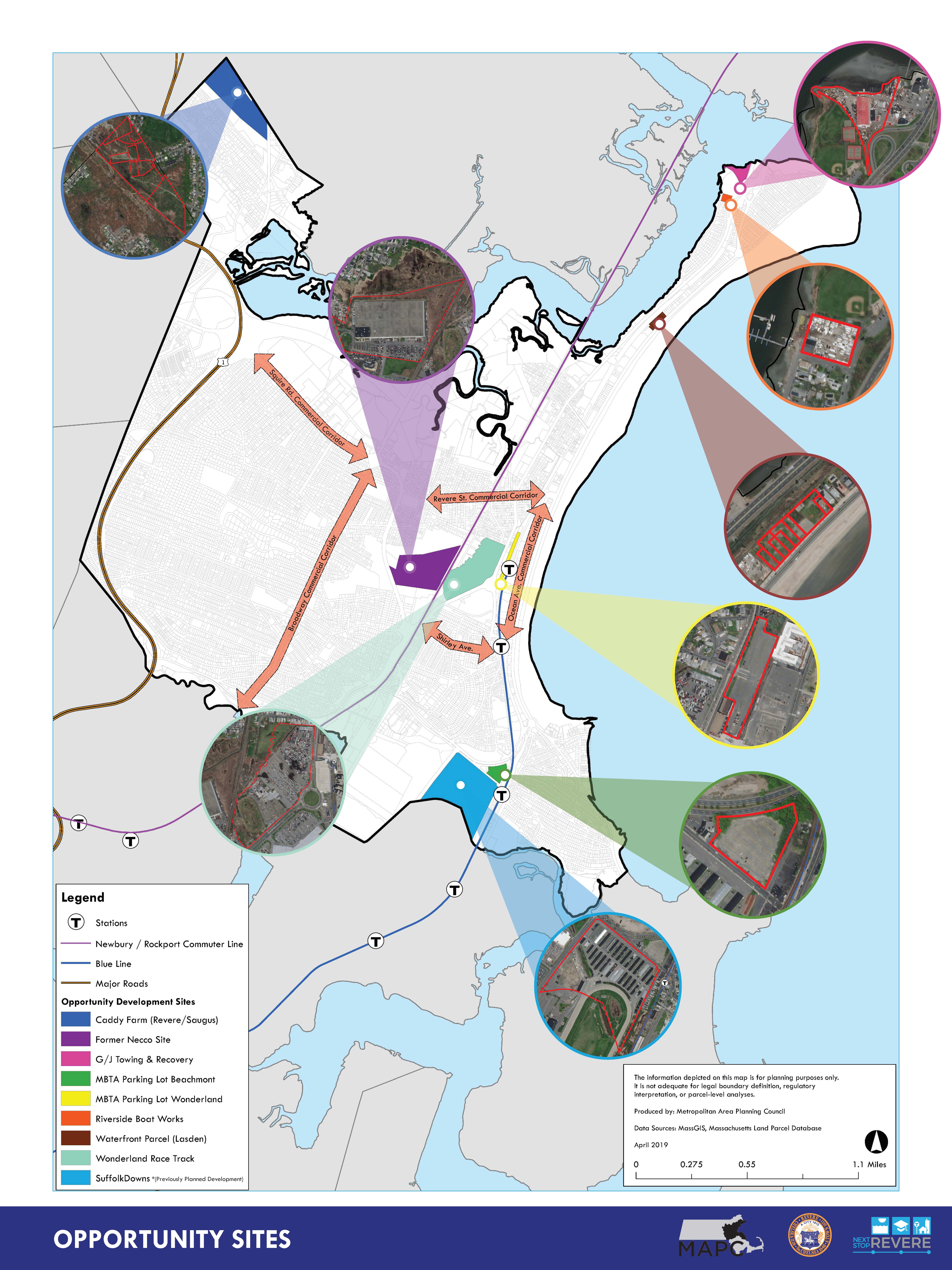 The economic development of the City is critical for the stimulation of its growth, accessibility, and stability. Not only does it involve the planning and production of residential, commercial, and industrial developments and the attraction of relocating businesses, but also enhancing existing market assets, boosting trade, increasing the competitiveness of its industries, and creating opportunities for workers and all residents. The City is currently in the process of revitalizing Revere's local economy through redevelopment and reinvestment along the municipality's underutilized but strategically positioned assets, such as the Suffolk Downs redevelopment, the Shirley Avenue business district, Waterfront Square, Wonderland Race Track, the former NECCO property, and Caddy Farms. Revere's vision for economic development will continue to be informed by the Next Stop Revere Master Plan, about which information can be found below.
Floodplain Information
Looking for information on whether a certain property or area is located in a flood zone? Flood zone information for a property is often a requirement for many insurance and assessing purposes, and it can easily be found online via the City of Revere's GIS platform. We've compiled a quick guide for utilizing the floodplain functions of the GIS maps below for your added convenience. For further information on Revere's floodplain, please contact John Squibb at (781) 286-8184. For more information on floodplains in general, please see the FEMA Flood Map Service Center. Also visit the City of Revere Conservation Commission for additional resources.
GIS Floodplain Map How-to Guide
Visit http://gis.revere.org/. If you need any instructions on how to use the site, visit www.revere.org/gis.
Look to the top right of the interactive page for the "Layers" icon, which depicts three maps arranged vertically, and click on it.
A small box will pop up listing all of the operational maps for the GIS system. Click on the box next to the layer "FEMA_Floodzones_2016" to display a floodplain map for the entire City.
To quickly find a specific property or area, enter an address into the search box at the top left.
For information on what each floodplain designation means, please see this informative site.
Infrastructure and Public Facilities
One of the major responsibilities of the Office of Planning & Development is to oversee the maintenance, improvement, and construction of infrastructure and public facility projects. These projects include parks, public plantings, lighting systems, water systems, drainage systems, sewerage systems, and sidewalk and road improvements. The City often capitalizes on external financing including Chapter 90 reimbursements and Massworks grants to drive infrastructure and public facility projects in order to further enhance the efficiency, comfort, and attraction of the City of Revere. For more information, please contact Michael Kessman at (781) 286-8186 or John Squibb at (781) 286-8184.
Resources, Links and Applications
Applications and Forms
Applications and forms not online can be provided upon request by visiting the Office of Planning & Community Development, found on the Mezzanine Level of City Hall.
Zoning & Permitting
Businesses
Home Purchasing/Improvement
Resources
Community Development Block Grant (CDBG) Program
Workforce Development
Businesses
Housing
Community Health & Improvement
Flood Zones
Frequently Asked Questions
Who can I contact for information and assistance regarding businesses, developments, planning, or other community development affairs?
The Office of Planning & Community Development works to promote the City as an attractive location for new businesses, retain and stimulate the expansion of our valued existing businesses, and increase and diversify our tax base. We provide planning support, technical assistance, coordination, and advisory services to City officials, boards, committees, and all residents on issues involving land use planning, zoning, economic development, open space land preservation, smart growth, and historic preservation. The office can be reached via phone at (781) 286-8181, or refer to the contact list above for professional assistance specific to your concern. Additionally, you can seek out help in-person at the Office of Planning & Community Development in City Hall, located on the Mezzanine level.
How do I start a business in Revere?
What does Revere offer my business and why should I move/expand my business to Revere?
Does the City of Revere offer business incentives?
Where can I find out about available commercial real estate?
Does the City have a plan for long-term economic development?
What are the key industries in Revere?
What are Opportunity Zones and how can my business best take advantage of those in Revere?
How/Where do I find zoning information?
Will the Mayor or other City officials participate in grand openings or other business celebrations and ceremonies?
Does Revere have any historic districts?
What happens if I encounter problems with the development of my property or business?
What is the process for making improvements to my building or office/retail space?
Who's in charge of overseeing my street or public area?
Contact Information & Hours
Mon.-Thur. 8:15am-5pm
Fri. 8:15am-12:15pm