School Committee
School Committee
Anthony D'Ambrosio

Contact
Anthony D'Ambrosio earned his bachelor's from Yale University in 2018 and his master's from the University of Cambridge (England) in 2019. He has experience in both the public and private sectors and has worked on behalf of children through nonprofit leadership for many years. Anthony will fight for children of differing needs while serving on the School Committee and will put a particularly strong emphasis on mental health intervention and training.
Michael A. Ferrante

Contact
59 Burbank Street
Revere, MA 02151
Phone: 781-284-7491
I am a lifelong resident of the City of Revere. I have been married to Ellen Ferrante for 30 years and we have a son Edward and a daughter Melissa. I am a 1975 graduate of Revere High School and a 1980 graduate of Northeastern University. I am a member of the Knights of Columbus and the Revere Moose. I am an accountant and president of GSF Tax Service Inc, a family business which has been in existence for over 30 years. I have served as a public official for 17 years. During my service as a member of the Revere School Committee, I served three years as the Vice-Chair of the School Committee and I am the current Chairman of the Ways & means Subcommittee.
Susan J. Gravellese

Contact
43 Randall Road
Revere, MA 02151
Phone: 781-286-1386
I am a life-long Revere resident and a graduate of Revere High School, with the fourth generation of my family currently attending the Revere Public Schools. I will continue my commitment to ensure that every child has the same opportunities my children did, to receive a well-rounded education and go on to pursue their dreams.
Stacey A. Rizzo

Contact
609 Mountain Ave.
Revere, MA 02151
Phone: 781-289-1724
Stacey is serving her fifth term on the Revere School Committee. She is passionate about being responsive to her constituencies in governance, sensitive to the diverse needs of all learners, an advocate for students and learning before the people of the community and a vigorous ambassador for public education! Stacey is currently Chair of the Policy Committee, member of the Health/Special Ed & the Safety/Security sub-committees along with liaison for RPS Health & Wellness, SEPAC, Board Member at Shore Educational Collaborative and a member of the Massachusetts Association of School Committee Board of Directors.
Stacey is proud to be strong minded, determined and a free thinker! More importantly her proudest accomplishment is her marriage to John Rizzo for 32 yrs, along with their sons & daughter in laws, Jonathan, Jilleen, Adam, Rose, Nicholas, Alexa and their precious granddaughters, Sylvia & Adeline!
Frederick A. Sannella

Contact
36 Goodwin Avenue
Revere, MA 02151
Phone: 781-284-3697
Prior to being a school committee member for 20 years. Fred was a teacher at the Lincoln School and an Assistant Principal at the AC Whelan School. He also served as a City Councilor where he was also Council President. He has also served as the Ward 5 Democratic City Committee and as the Election Commissioner.
As a lifelong advocate for the City of Revere, Fred is most proud of his efforts in our schools. Fred was selected to the board to draft the MA Educational Reform Act. With the collaboration of his colleagues and the MSBA, Revere has built 5 new schools and is anticipating the beginning of a much-needed new Revere High School.
Fred and his beloved wife, Grace Hill Sannella, of 42 years have always been at the forefront of education. The newly dedicated Hill Elementary was named after her brother, Staff Sgt. James J. Hill.
Carol A. Tye

Contact
51 Endicott Avenue
Revere, Mass. 02151
Phone: 781-289-1608
Northeast Metropolitan Regional Vocational School Committee
Anthony Caggiano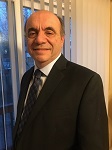 Contact
103 Patriot Parkway
Revere, MA 02151
Phone: 617-962-3933
Anthony Caggiano was born and raised in Revere. He graduated from Revere High School and Suffolk University. Father of three sons, Anthony, Alex and Andrew, who are all graduates of Northeast Regional. Anthony is committed to maintaining student's safety protocols while still providing the students with the best education and future employment opportunities.