Online Bill Payments
Effective January 1, 2022: ALL Credit/Debit Card fees will be billed to the taxpayer at 3%. ACH/Check Bank fees will be absorbed by the City.
Effective April 5, 2022: All personal property, real estate, and motor vehicle taxes will be paid on a new platform. Residents can create an account at CityHallSystems for their payment convenience. Water and Sewer bills will continue to be paid at the old platform for the time being.
Revere City Hall Systems Bill Pay
For the convenience of residents and taxpayers, the City of Revere accepts online payment for a variety of taxes, fees, and payments. Accepted credit card payments by Visa, MasterCard, Discover, and American Express.


If you are paying Real Estate Tax and you own more than one parcel, you may need to search by bill number, barcode number or by street without number, to find additional parcel information.
Contact Info
If you prefer to pay Motor Vehicle, Real Estate, or Personal Property taxes by phone, please call 508-381-5455, Monday-Friday 8:30AM-5PM ET.
If you are having an issue with a payment, please note the following phone numbers for assistance:
Payment Type
Phone Number
All Tax Payments
Water Bill
781-286-8120
Please note: Due to high call volume the Collector's Office is requesting that you not call between 12pm and 2pm.
Parking Tickets
781-629-5127
Additional Trash Cart
Health & Food Licenses
Bulky Item Pickup
Dumpsters
781-286-8311 (3-1-1)
Building Permits
781-286-8196
Fire Permits
781-284-0014
Short Term Rental
781-485-8479
Vital Records
781-286-8160
Troubleshooting
Water & Sewer Bills. The site for payments of Water and Sewer Bills is best used with popup and ad blockers turned off.
If using Internet Explorer 11, see the image below for turning off your popup blocker.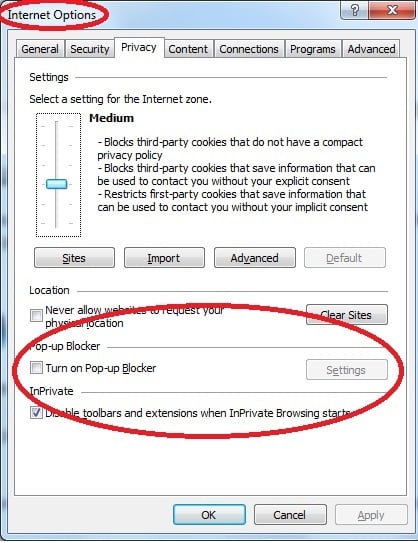 Epermitting. If you have completed all fields on the payment page on CitizenServe and it is not accepting your card, be sure to manually enter your credit card information, and don't use the auto-fill. If that still fails, you may need to try a different browser.