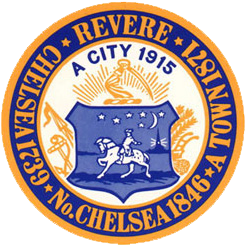 City of Revere, Massachusetts
Office of the Parking Clerk
300 Broadway, Main Floor - Suite#2
Revere, MA 02151
781-629-2542
Mission Statement:

To adhere and enforce state & local parking laws in an impartial manner. Ensuring the
advancement of departmental functions and meter technology to alleviate congestion
of parking spaces and traffic for the City of Revere.
Staff:
Director of Parking:
James Rose
781-629-2542
Principal Clerk:
Louis Guevara-Flores
781-629-2542
Five Important Announcements
Resident and Visitor Parking Permit Program Information
Residential Parking Permits will be available on Monday April 1st, 2019. Please keep in mind application for permits will also be available online on the same Monday. Please refer to our quick links on the left hand side for the Resident Permit Application.
All other permits will be directly below for residents to print out and fill out for general information or for mailing in your application forms with all appropriate documents requested.

Deadline for receiving your permits will officially be on April 30th.
Also, online permit applications will be available on Monday. The link will be posted in this section once it is available and ready for use to the general public. When you submit an application the Parking Clerk Office will review and mail the new permits to the address listed on the application.
Permit Application list:
Commercial Vehicle Permit Application

No Vehicle Visitor Permit Application
Health Worker Permit Application
Landlord Parking Permit Application
Business in a Resident Permit Area Application
Business Parking Permits (Exclusive to Shirley Ave Lot & and Shirley Ave Businesses)
---
Street Sweeping
Street Sweeping will begin on April 1st, 2019. Please make sure to make sure to move vehicles during your schedule street sweeping days. Please refer to links below:
https://www.revere.org/departments/public-works/street-sweeping-schedule
http://reverepolice.org/street-sweeping-schedule/

New Parking Meter Program
Broadway meters are 100% complete meanwhile meters on Shirley Ave will be completed in late April - early May. Credit card payments are available.
---
Parking Meters Hours of Enforcement
The updated hours of enforcement for our new IPS Parking Meters are now between 9AM - 7PM Monday through Saturday.

Holiday and Snow Days

Please make a note that on Holidays and during snow emergencies there will be no enforcement occurring from the Parking Department.

Please Call 311 for more information at: 781-286-8311
How do I pay a parking violation?
1. Pay online at: https://www.kelleyryan.com/epay/
2. Pay by mail: Do not mail cash. Pay only by money order or check made payable to the City of Revere. Write your ticket number and plate number on the front of your payment to ensure proper credit. Mail the parking violation along with your payment to:
City of Revere Parking Violations
P.O. Box 203, Milford, Ma 01757
3. Pay in person at: Business Office Building, Parking Clerk, 300 Broadway, Revere, MA 02151, Monday to Thursday 8:15 A.M. to 5:00 P.M., Friday 8:15 A.M. to 12:15 P.M. Cash, check, or money order are acceptable forms of payment. Only cash or money orders will be accepted as payment for parking violations which are marked at the Registry of Motor Vehicles.
How do I request a hearing?
A hearing in person or a hearing by mail may be obtained upon a written request of the registered owner within twenty-one (21) days of the violation date to the Parking Clerk. Failure to pay or appeal a parking violation within twenty-one (21) days will result in additional late fees, and may also result in the nonrenewal of the registered owner's driver's license and/or vehicle registration (M.G.L. c. 90 §§ 20A½ - 20C, and 20E as amended) and may also be subject to the tow and hold provisions of M.G.L. c. 90 § 20A½. The law does not affect in any way your right to appeal to Superior Court.