Office of the Parking Clerk
The Office of the Parking Clerk advances the City's vision for efficient and effective parking solutions that support economic growth and development while providing residents, visitors and business owners with easy to use technology, clear information and operational transparency.
Residential Parking Stickers
City-Wide Overnight Parking Program
The City-Wide Overnight Parking Permit Program is in effect.

2022 Permit Stickers & Zones (Update)
The City Of Revere Parking Department will honor 2021 Permits into the new year! January 31st, 2022 will be date of expiration for all 2021 permits/placards. Mailing for the new permits will begin on the 2nd week of December, but will be put on hold for the last 2 weeks of December for the Holidays.
Please note: All 2021-2022 late/marked Parking tickets and Excise taxes must be up to current in order for you to receive a 2022 resident permit. Visitor permits require you to fill out an application. We DO NOT mail visitor permits unless an application is filled and proper documents with fee are settled.
A resident sticker is required to park on any city street between the hours of 12 am and 6 am daily, except holidays. 24/7 "Resident Parking Only" parking restrictions are in place on multiple streets in most neighborhoods of Revere. The program prevents long-term parking by non-residents on residential streets. You need a permit to avoid getting a ticket.
If you applied online and were not able to find your street listed or are inquiring about an application status please contact City Hall Systems to add your address or check your application status.
City Hall System Contact Information:
Monday - Friday: 8:30AM - 5:00PM
Email: ePay@CityHallSystems.com
Phone : 508-381-5455 or 508-381-5456
City Wide overnight parking hours of enforcement will be 12 am to 6 am daily, excluding holidays.
The permit is free to residents whose vehicles are registered to a Revere address and do not have any outstanding parking tickets or excise taxes due to the City. If you have not received a permit in the mail you must apply. For details and how to apply click Details of the Program.
DCR - Revere Beach
Parking between Revere Street and Carey Circle on the inland side of the boulevard is designated as "Resident Parking Only – Revere Beach Permit Required" and is not open to non-residents. (The majority of Ocean Ave is also designated as "Resident Parking Only – Revere Beach Permit Required".)
Parking between Elliot Circle and Revere St. on the both sides of the boulevard is designated as "4 Hour Parking Only"
Parking between Revere St. and Carey Circle along the seawall side of the boulevard holds no restrictions and is free to park with no time restraints.
For more information please check DCR's On-Street Parking Program
Ticket Payments
Pay online at https://www.kelleyryan.com/epay?source=revere_ma


Pay by mail: Do not mail cash. Pay only by money order or check made payable to the City of Revere. Write your ticket number and plate number on the front of your payment to ensure proper credit. Mail the parking violation along with your payment to:

City of Revere
Parking Violations


P.O. Box 203
Milford, MA 01757

Pay in person at: The Office of the Parking Clerk, 300 Broadway, Revere, MA 02151, Monday to Thursday 8:15 AM to 2:00 PM, Friday 8:15 AM to 12:15 PM Cash, check, money order, credit, and debit cards are acceptable forms of payment. Only cash, money orders, and credit/debit cards will be accepted as payment for parking violations which are marked at the Registry of Motor Vehicles.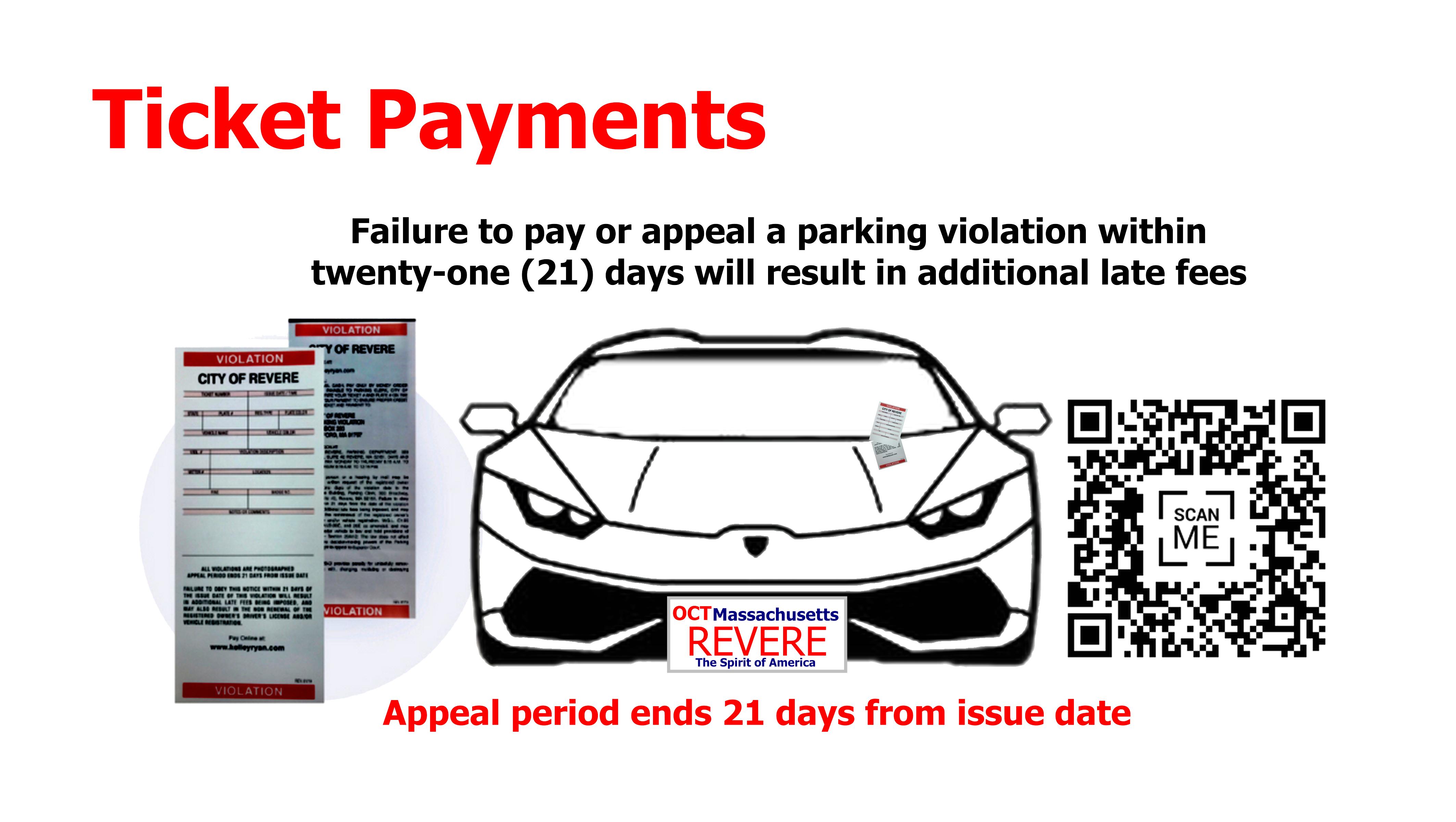 4. If the Fine Amount is full payment and received under 21 days of the issue date of the violation, no further action will be taken. If the Fine Amount is unpaid in 21 days a Late Penalty fee of $10.00 will be added. If a Fine goes unpaid for 45 days a penalty of $20.00 will be added as well as a $20.00 RMV Marked Penalty "Non-Renewal of License/Registration"
Street Sweeping
In an effort to keep our streets clean, street sweeping in effect from April 1st to December 31st. Please be advised vehicles parked in violation will be subject to ticketing and towing. Please be aware of signage in your neighborhood for applicable parking restrictions. You can find your street sweeping day on the City's website and sign up free for alerts.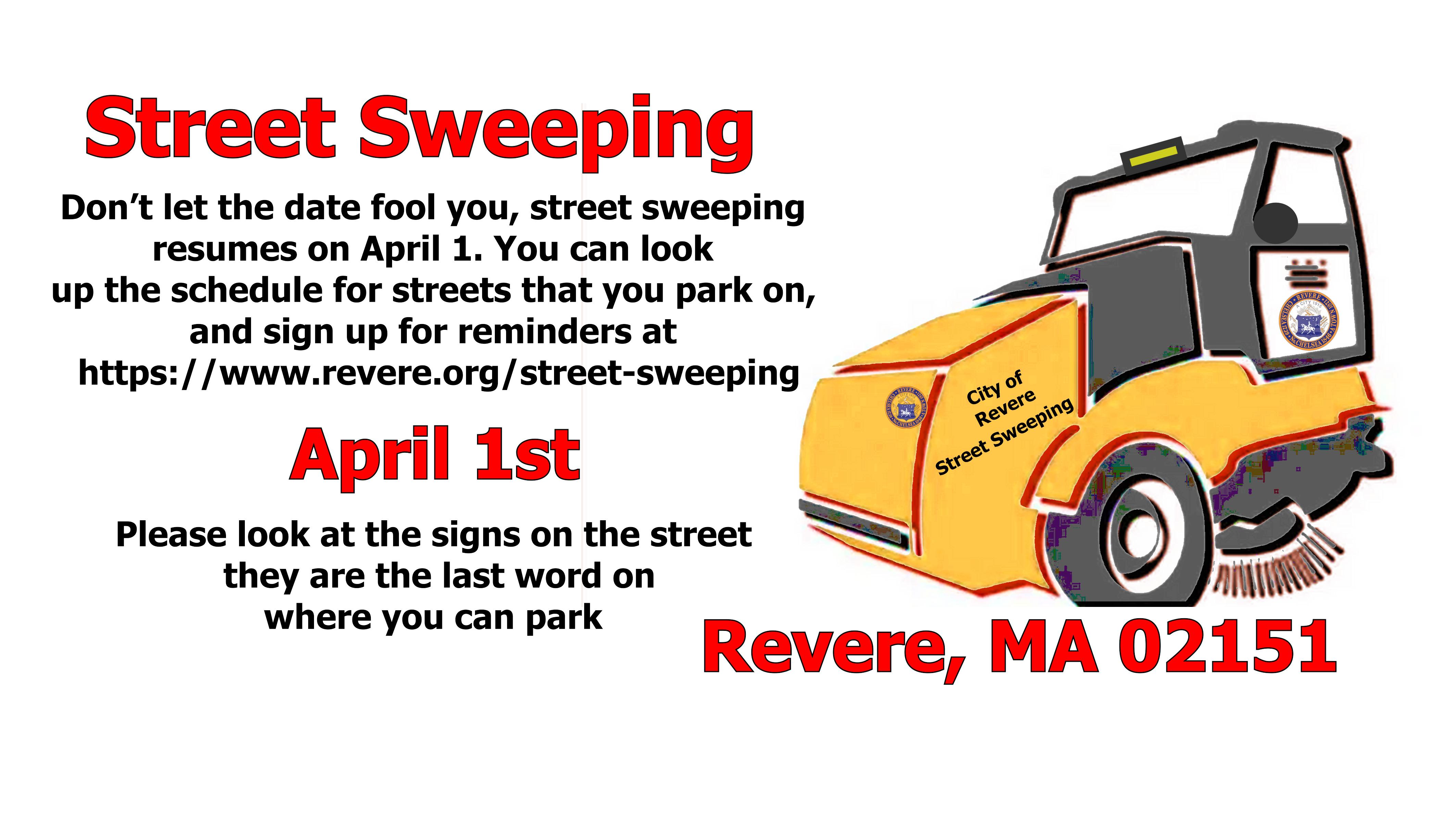 Parking Ticket Appeals
A hearing in person or a hearing by mail may be obtained upon a written request of the registered owner within twenty-one (21) days of the violation date to the Parking Clerk.
You can now submit your Parking Ticket Appeal Online!
Parking Ticket Online Appeal Form
Send your appeal request with relevant contact information, please be sure to include a phone number, ticket number, and ticket date to:
City of Revere
Office of the Parking Clerk
300 Broadway, Main Floor - Suite #2
Revere, MA 02151
You can also complete your appeal request in person at the Office of the Parking Clerk.
Failure to pay or appeal a parking violation within twenty-one (21) days will result in additional late fees, and may also result in the non-renewal of the registered owner's driver's license and/or vehicle registration (M.G.L. c. 90 §§ 20A½ - 20C, and 20E as amended) and may also be subject to the tow and hold provisions of M.G.L. c. 90 § 20A½. The law does not affect in any way your right to appeal to Superior Court.
Parking Meters
Parking Meters are active and being enforced from 9 AM to 7 PM Monday through Saturday. Parking is Free on Sundays and Holidays. Please be sure to pay your meter to avoid being ticketed. For contactless payments at the meter download the Passport Parking App (or ParkBoston) free to your mobile device.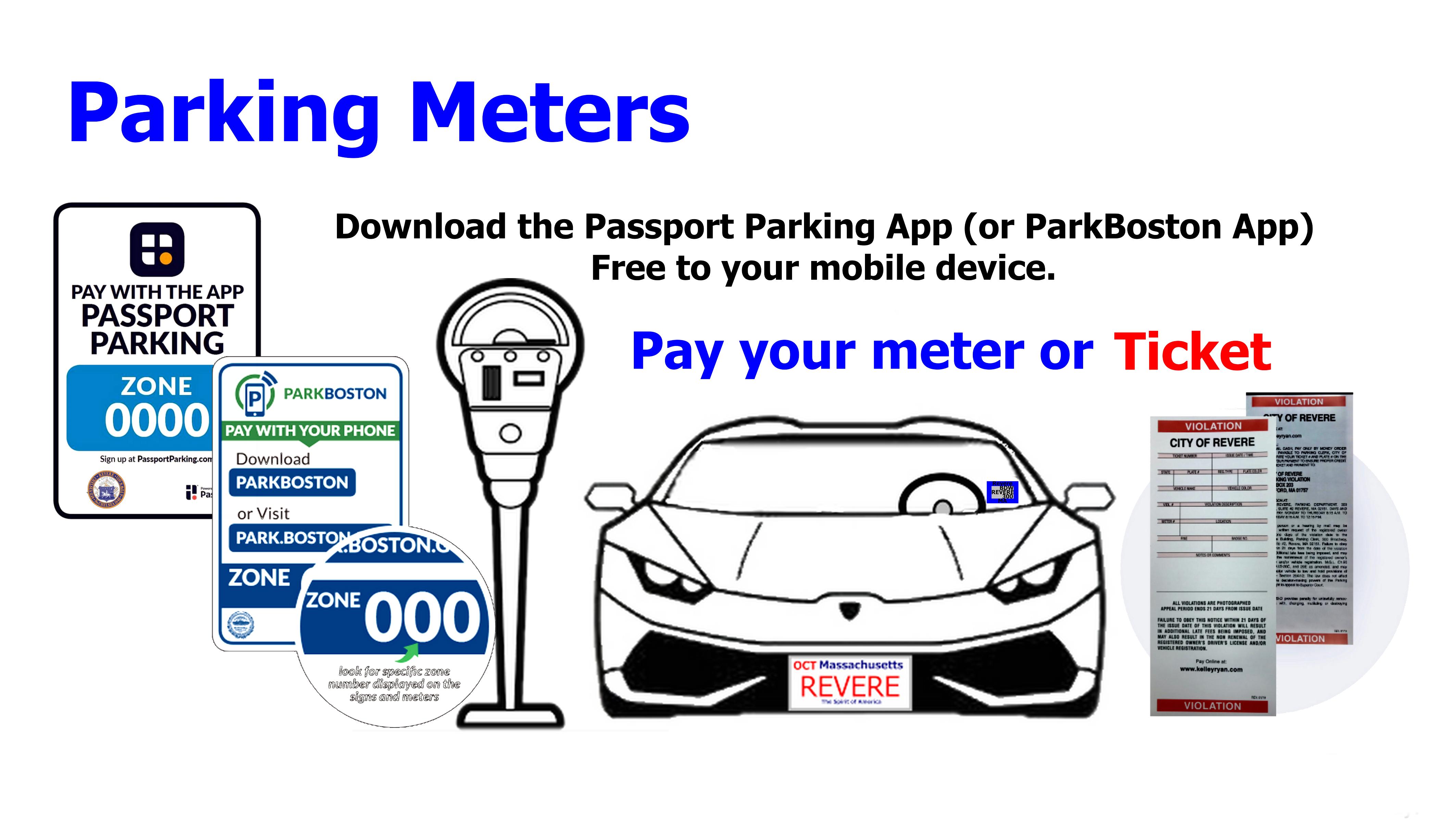 Holidays and Snow Days
Please make a note that on Holidays and during snow emergencies there will be no enforcement occurring from the Parking Department.
There are parking restrictions on major thoroughfares. The full list of restrictions can be found at http://reverepolice.org/snow-emergency-parking/
Please refer to your Revere Code of Ordinances for snow parking restrictions.
Forms
Before Applying for a Resident permit please make sure you have paid all outstanding excise taxes and parking ticket violations on this link.
Bus Lane Enforcement
Please be aware that the City Of Revere Parking Department have been enforcing the Bus Lanes since early November. Please find more information on the bus lanes below: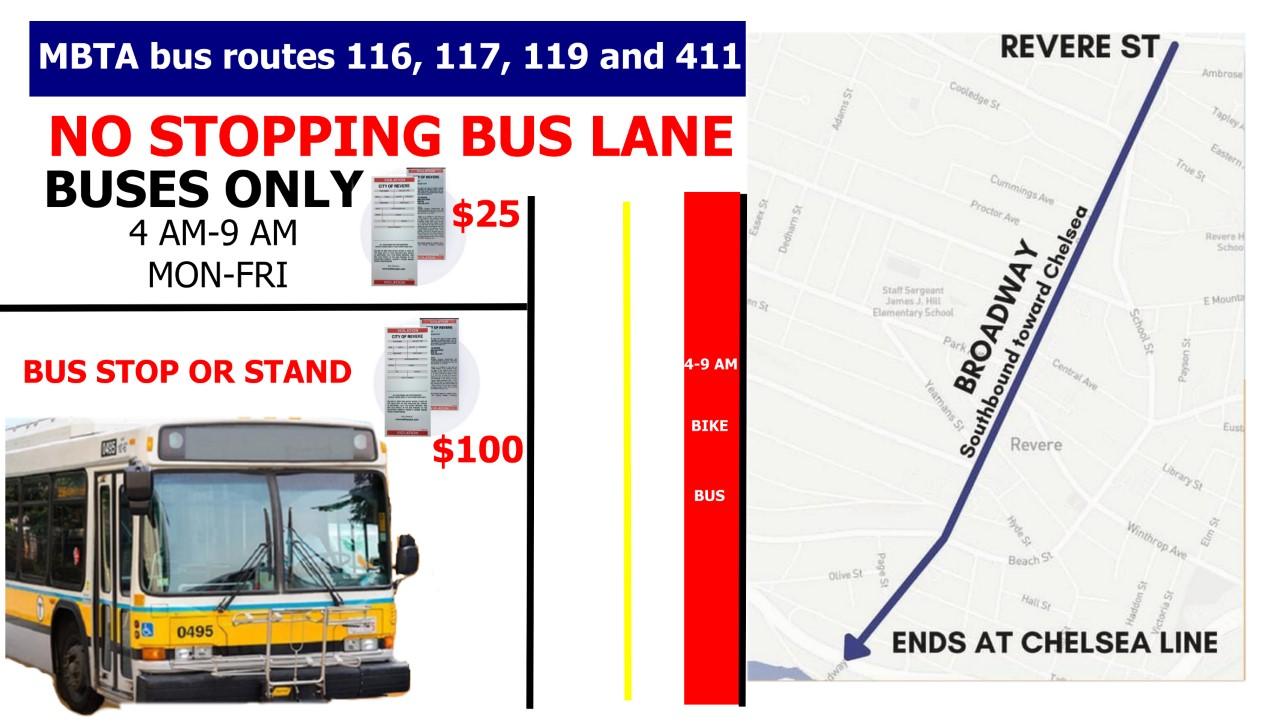 Frequently Asked Questions
Could I pay my parking tickets with Debit or Credit Cards?
Yes, currently all card payments could be made online.
How do I qualify for a Residential Permit?
How do I qualify for a Visitor permit with and without a registration?
Why is my Permit Application status rejected?
How much are Resident Permits, Visitor Permits and other special permits?
Find The Parking Rules On Your Street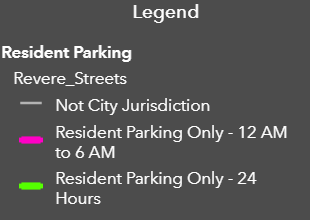 Contact Information & Hours
Open to the public:
Mon.-Thur 8:15 am - 5:00 pm
Fri. 8:15 am - 12:15 pm

Zachary Babo
Director
Louis Guevara-Flores
Assistant Director

Kelly Debonis
Principal Clerk

Christian Majano
Clerk