Office of the Parking Clerk
The Office of the Parking Clerk advances the City's vision for efficient and effective parking solutions that support economic growth and development while providing residents, visitors and business owners with easy to use technology, clear information and operational transparency.

ATTENTION: Starting on May 1st, 2023 the Parking Department will begin new hours of operation. Residents and guests will now be able to visit our offices, at our new hours, on Monday & Wednesdays between 8AM - 7PM and Tuesday & Thursday between 8AM - 5PM. On Fridays the Office Of the Parking Clerk will now be closed.
City of Revere Parking Permits/Placards
Parking Permit Information
City-Wide Overnight Parking Program
Residential Parking Stickers
Parking Department Facebook
The Parking Department would also love to welcome Resident to follow news and updates on our City Facebook Page. We try out best to keep you up to date on any parking issues, street sweeping, resident parking and parking alerts. Please feel free to follow our page and share your questions or concerns.
Parking Department Facebook: https://www.facebook.com/ParkingClerk/
Parking Ticket Appeals
A hearing in person or a hearing by mail may be obtained upon a written request of the registered owner within twenty-one (21) days of the violation date to the Parking Clerk.
You can now submit your Parking Ticket Appeal Online!
Parking Ticket Online Appeal Form
Send your appeal request with relevant contact information, please be sure to include a phone number, ticket number, and ticket date to:
City of Revere
Office of the Parking Clerk
300 Broadway, Main Floor - Suite #2
Revere, MA 02151
You can also complete your appeal request in person at the Office of the Parking Clerk.
Failure to pay or appeal a parking violation within twenty-one (21) days will result in additional late fees, and may also result in the non-renewal of the registered owner's driver's license and/or vehicle registration (M.G.L. c. 90 §§ 20A½ - 20C, and 20E as amended) and may also be subject to the tow and hold provisions of M.G.L. c. 90 § 20A½. The law does not affect in any way your right to appeal to Superior Court.
Parking Meters
Parking Meters are active and being enforced from 9 AM to 7 PM Monday through Saturday. Parking is Free on Sundays and Holidays. Please be sure to pay your meter to avoid being ticketed. For contactless payments at the meter download the Passport Parking App (or ParkBoston) free to your mobile device.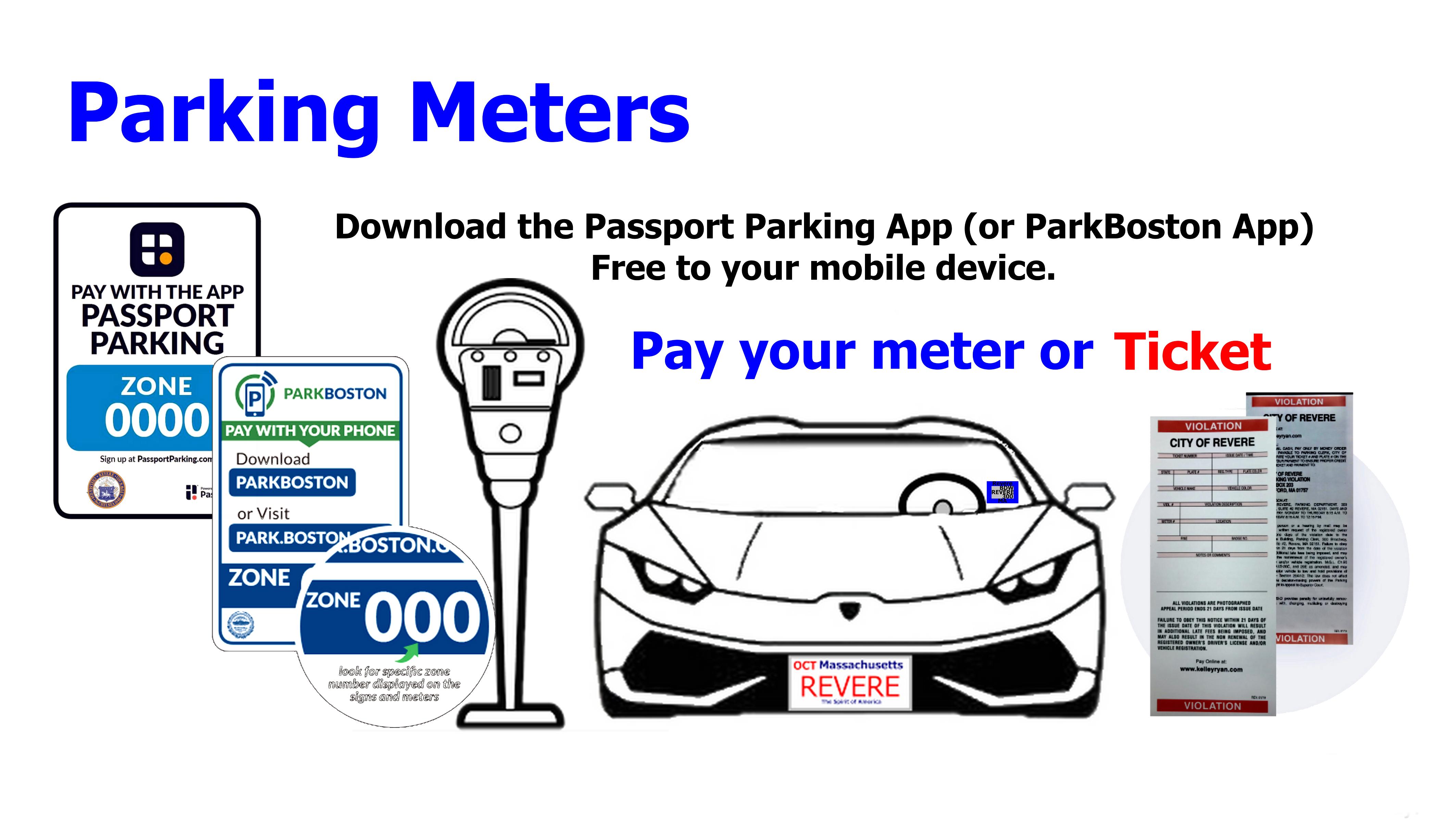 Holidays and Snow Days
City Of Revere Parking Ticket Payments & DCR
DCR - Revere Beach Parking Signage
Pay a Revere or DCR Parking Ticket
Frequently Asked Questions
Could I pay my parking tickets with Debit or Credit Cards?
Yes, currently all card payments could be made online at:
How do I qualify for a Residential Permit?
How do I qualify for a Visitor permit with and without a registration?
Why is my Permit Application status rejected?
How much are Resident Permits, Visitor Permits and other special permits?
Is my street enforced 24hrs or overnight?
Find The Parking Rules On Your Street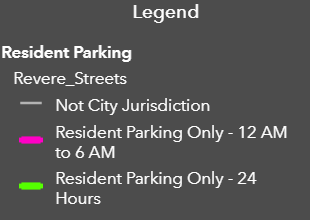 Contact Information & Hours
Mon. 8 am – 7 pm
Tues. 8 am – 5 pm
Wed. 8 am – 7 pm
Thur. 8 am - 5 pm
Fri. Closed