Novel Coronavirus/COVID-19
The City of Revere is closely monitoring the COVID-19 outbreak in Massachusetts and taking proactive steps to support containment efforts and prepare for further spread of the disease. Regular updates will be shared here and via social media.
Subscribe for updates
Sign up for email/text updates about our Covid-19 response.
Revere Covid-19 confirmed Case Information
Total
Cases
New
Cases
7 Day
Case Avg
14 Day Pos Rate
Total Deceased

8,688

46

56.9

11.3%

137
Mayor's most recent Press Release
To report a suspected Covid-unhealthy gathering, please call 781-284-1212.
Frankie Fanabla Returns to Suggest Everyone Get a Test
Testing Sites
Mayor Brian Arrigo and the Revere Board of Health have announced a free COVID-19 testing site will operate at Revere High School from July 27- March 30 as part of the Baker-Polito Administration Stop the Spread initiative. Drive-thru testing will be available Monday through Saturday in the Revere High School parking lot at no cost, with no insurance, no identification and no appointment required. Results will be communicated to the individual within 2-3 days. Walk-up is available from 4-8 for Revere residents only - proof of residency required.
Revere High School Testing Site
Monday, 4pm-8pm - THIS SITE WILL BE OPEN ON MONDAY, JANUARY 18TH (MLK DAY)
Tuesday, 4pm-8pm
Wednesday, 4pm-8pm
Thursday, 4pm-8pm
Friday, 4pm-8pm
Saturday, 7am-11am
Revere High School site is subject to long lines. You might be turned away prior to closing time if the testing site has reached maximum capacity. Hours are weather permitting.
Revere Resident Only Senior Center Testing
Location: Revere Senior Center, 25 Winthrop Ave
Date: Fridays and Sundays through January
Time: 8:30am to 1pm
Bring proof of residency, as staff will be verifying.
Revere resident only Walk-Up Mobile testing
The City of Revere is partnering with Mass General Brigham, Mass General Hospital and the Kraft Center for Community Health to provide mobile COVID testing.
Location: CENTRAL AVENUE MUNICIPAL PARKING LOT, Walk-Up Only
Date: Wednesdays in January
Time: 8:30am to 1pm
This is an observed self-swab testing location. This is a PCR test.
Bring proof of residency, as staff will be verifying.
Asymptomatic individuals only will be tested at this location.
The mobile van will be at various locations around Revere at other dates and times. Details pending.
EXPRESS COVID-19 TESTING SITE AT SUFFOLK DOWNS
Express COVID-19 Testing Site at Suffolk Downs is now open. Pre-registration is required via www.beacontesting.com. This test is drive-thru only and a self-swab test.
Please note: Current testing appointments are being booked a few days out at this time. It is necessary to pre-register for a time to access this testing site.
The site is located across the street from the Shops @ Suffolk Downs on Tomasello Way at 31 Furlong Drive in Revere, MA. You can access the site from either Revere Beach Parkway or Route 1A (William McClellan Parkway). We recommend accessing it from Route 1A to drive directly into the queue.
Hours are weather permitting.
Additional Testing Options
These locations require No Insurance, No PCP, No Questions Asked.
East Boston Health Center. Call 617-569-5800 and follow prompts to register for testing. You must register. You don't need to schedule an appointment time, just show up on the day you have scheduled. Confirm verbally on the phone that an order has been placed for your test. They text you a link to an app where you can view your results. The location is at 79 Paris Street Monday-Friday 8am-12pm, 1pm-5pm and Saturday from 10am-12 pm, 1 pm-3pm. They are closed on Sundays.

Beth Israel Deaconess at 1000 Broadway in Chelsea has both a walk-in tent and an appointment tent.
Vaccination
This page will be updated with information as we receive it about Revere vaccination information, locations, eligibility, and process.
Sign Up with the City to receive a communication when you are eligible for a vaccination.
Read the city's January 11 Press Release on the vaccination plan.
Visit the State website for updated information, including the phasing plan. The state also provides a page of federal vaccine resources.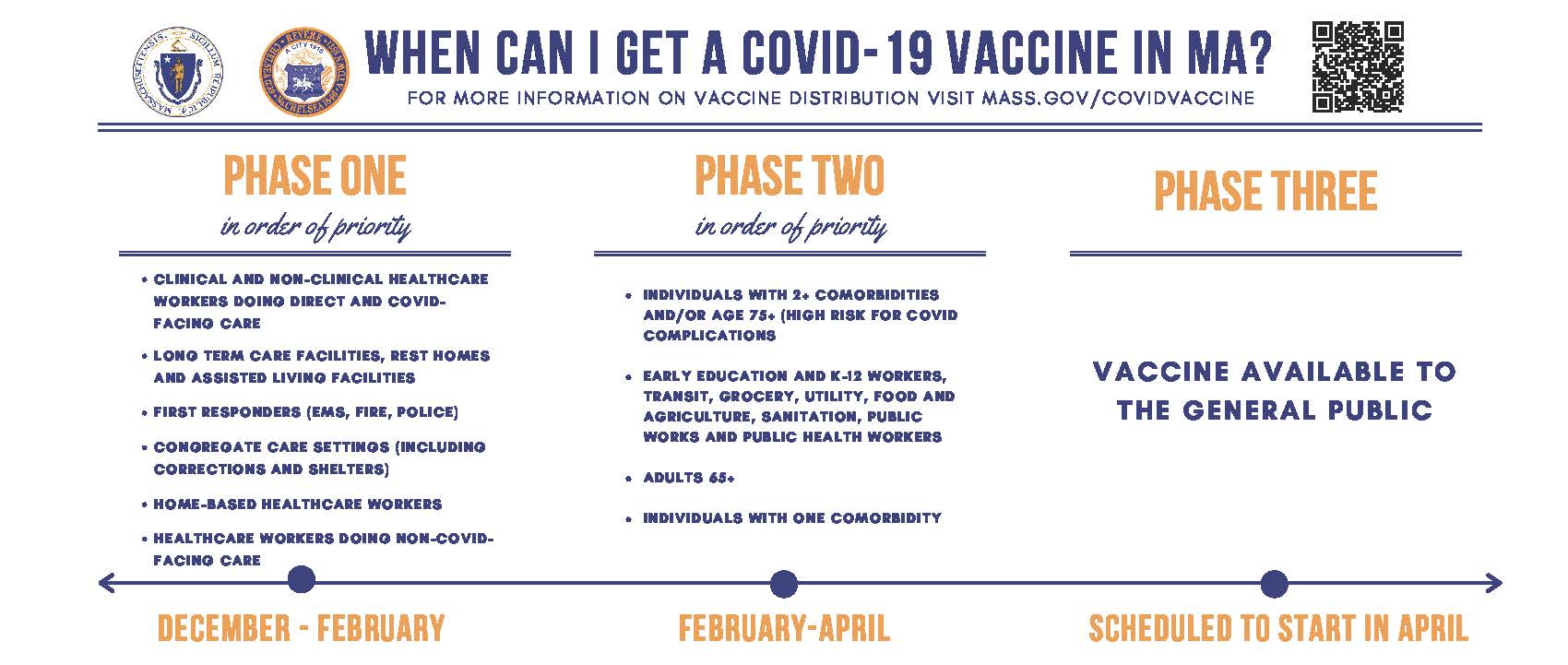 Food Assistance
Food Resources
The City of Revere has updated its food services.

Weekly Food Pantry. The First Congregational Church's Food Pantry is currently being held at the League of Special Needs building, 196 Winthrop Ave. and is open every Wednesday night, 6:00-8:00 PM. This weekly food pantry is free and open to all Revere residents. Drive-ups encouraged but walk-ups welcomed. Residents will receive a bag of non-perishable food items to last their household 5-7 days. Please do not arrive early.
Free Student Lunches. Revere Public Schools is offering free meals to students of all ages on Tuesdays and Fridays at all elementary school locations. Click here for full details.
Food Delivery. The City of Revere delivers non-perishable food items to residents who have mobility issues or are under medical quarantines. Deliveries take place Monday-Friday and typically take 24 hours to process. To request a delivery, residents must call 3-1-1 or 781-286-8311.
Cambridge Health Alliance Mobile Market. The Cambridge Health Alliance hosts a once a month event that will take place on Saturday, January 9 and then every first Saturday of the month for the rest of 2021. Located at the Revere Care Center on 454 Broadway (back parking lot) and will take place 10:30 AM–11:30 AM each Saturday that it's held. Open to all for free fresh fruits and vegetables. For more information, please email PRODUCE@challiance.org.
Veterans Food Pantry. First Wednesday of the month 10:00am-12:30pm at American Legion at 249 Broadway in Revere. Available for Revere Veterans ONLY. Would you like to learn more? Please email the coordinator or the Veterans' Affairs Director.

*Are you in need of safe, reliable transportation due to the COVID crisis? The City of Revere has a program that may be able to help. Email our Outreach Coordinator to learn more about our city's transportation tools and how you may be eligible.
Press Releases
Important Resources
Raise Up Revere
Tweets by RaiseUpRevere
Data Dashboard
Key aspects to note in the data below: Revere positivity rates are lower, but still among the highest in the state. Revere per 100K daily case averages have dropped below 20. To get out of the Red Zone as set by the state, Revere needs that number to drop under 8 cases per day per 100,000 people.
Revere Cases
This data is updated weekly. Last Updated January 23. Next Update January 29.
Massachusetts Cases
Data and Testing FAQ
How does Revere collect testing data?
Who is being included in Revere's data?
Who is being tested in Revere?
Isn't it expected that our case numbers will rise when we increase testing?
What does "positivity rate" mean?
Why are we bringing more testing to Revere? What is the benefit to Revere?
How long does it take to get test results?
What kind of Covid test is being used?
My question didn't get answered.
Subscribe for updates
Sign up for email/text updates about our Covid-19 response.
Contact Information
Lauren Buck
Director, Department of Public Health