COVID Vaccine Information
This page will be updated on an ongoing basis about Revere vaccination information, locations, and process.
COVID-19 Vaccine Resources
Updated Vaccination Clinics
Be in touch with your local hospital to connect about possible availability.

For more Vaccine options at the state visit The COVID-19 Vaccine Finder at vaxfinder.mass.gov, with over 900 locations listed across the state. Or call 2-1-1.
Pharmacies Booking Vaccine Appointments
Revere Board of Health Vaccination Clinics:
Homebound Individuals
Any individual who has trouble getting to a vaccine site is eligible for the state's homebound program. This program is offering first doses, second doses AND BOOSTER DOSES. Please call (833) 983-0485 Monday through Friday from 9 AM to 5 PM to register for an in-home vaccination. Translation is available. After registering, individuals will be called within five business days to schedule an appointment. More information on the Homebound Vaccination Program here.
Vaccinated Business Program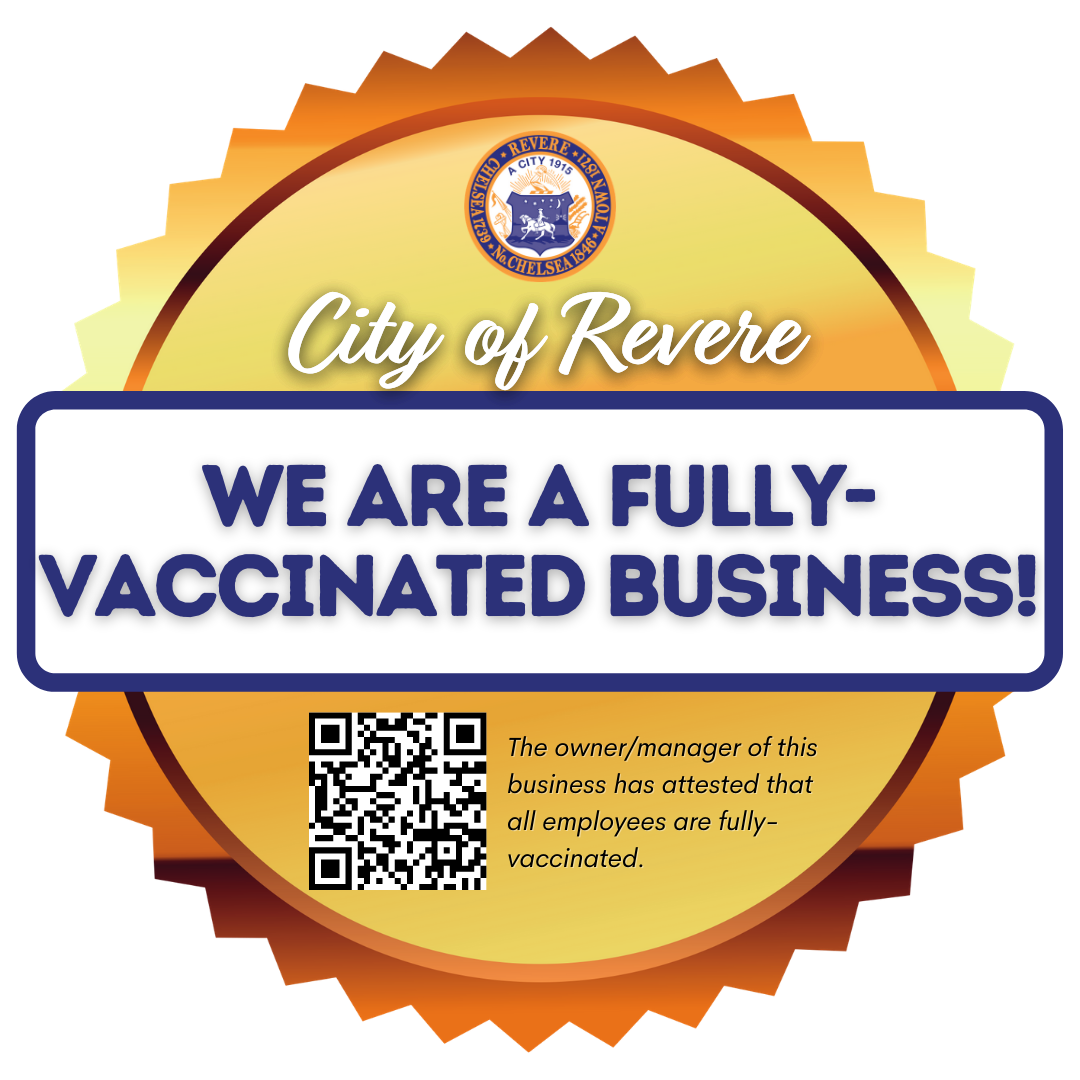 The city has launched a new Vaccinated Business Badge Program.
Updated Vaccine Phases
NEW AS OF APRIL 1st 2022: A 2nd booster has been approved for adults over 50 years old! Please call 781-485-8486 for more details about vaccine clinics.
All residents 5 and older are eligible to receive the vaccine.
*5 to 17-year-olds are only eligible to take the Pfizer vaccine.
To sign up for City Updates go to the top of this page and click "Subscribe".
Revere Vaccination data
The data included below is provided to the public by The Commonwealth of Massachusetts. This page will be updated weekly as new data is provided.
May 9, 2022 Update
Total 1st dose received
Fully Vaccinated Percent
Total Fully Vaccinated
Total
Boosted

54,347

77.1%

46,870

21,617
NOTE: The State is using population data for Revere that accounts for 60,849 people in the city.