COVID Vaccine Information
This page will be updated on an ongoing basis about Revere vaccination information, locations, and process.
COVID-19 Vaccine Resources
Updated Vaccination Clinics
Be in touch with your local hospital to connect about possible availability.

For more Vaccine options at the state visit The COVID-19 Vaccine Finder at vaxfinder.mass.gov, with over 900 locations listed across the state. Or call 2-1-1.
Pharmacies Booking Vaccine Appointments
Revere Board of Health Vaccination Clinics:
Homebound Individuals
Any individual who has trouble getting to a vaccine site is eligible for the state's homebound program. This program is offering first doses, second doses AND BOOSTER DOSES. Please call (833) 983-0485 Monday through Friday from 9 AM to 5 PM to register for an in-home vaccination. Translation is available. After registering, individuals will be called within five business days to schedule an appointment. More information on the Homebound Vaccination Program here.
Vaccinated Business Program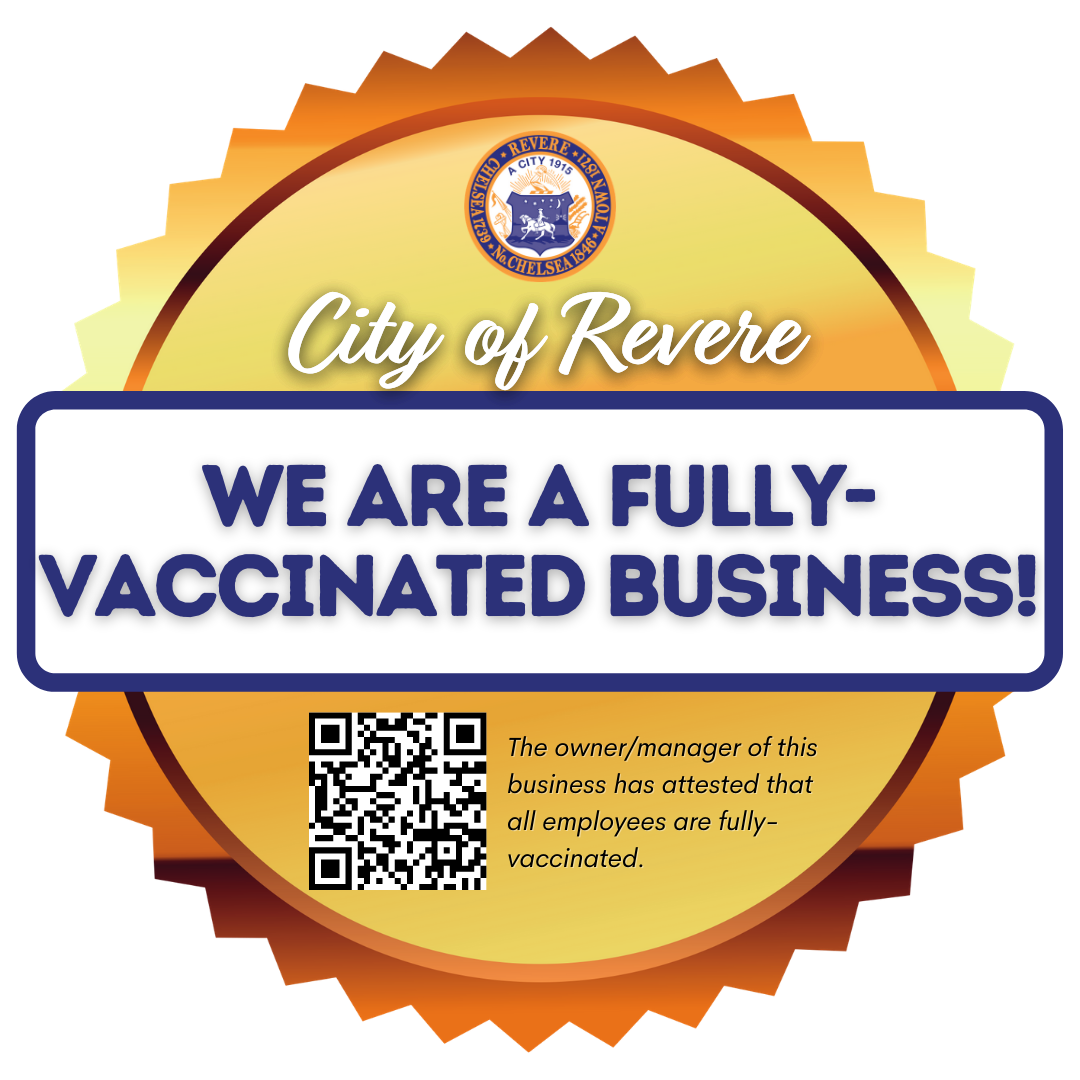 The city has launched a new Vaccinated Business Badge Program.
Updated Vaccine Phases
As of July 27, 2022: Everyone 6 months and older can receive initial doses of the COVID-19 vaccine! Everyone 5 years or older is eligible for getting a booster dose of the COVID-19 vaccine. Recommendations for booster doses vary based on age, product, and immunocompetence. There are now 4 types of COVID-19 (Pfizer, Moderna, J&J, Novavax). Please consult your doctor or vaccine provider for details on which vaccine is appropriate for you or your family.
To sign up for City Updates go to the top of this page and click "Subscribe".
Revere Vaccination data
The data included below is provided to the public by The Commonwealth of Massachusetts. This page will no longer be updated weekly as per the discontinuation of municipal level vaccination data from the State Department of Public Health.
As of October 2nd, 2023
| | | | |
| --- | --- | --- | --- |
| | Bivalent Doses Administered | | |
| | 14,011 | | |
NOTE: The State is using population data for Revere that accounts for 62,186 people in the city.
Data Updates
NEW As of July 29th, 2022
Historical data of COVID-19 vaccines administered will be posted and updated along with the vaccine dashboard on a weekly basis.
Check our the City of Revere's new COVID-19 Story Dashboard. Click through the arrows below to navigate the city's data.
UPDATED 5/9/23
4/22/2023, the CDC's COVID-19 vaccine administration recommendations have changed. Primary series (monovalent) vaccines are no longer available and the bivalent booster that became available on 9/1/22 is the only COVID-19 vaccine that is offered and provides the most updated protection, therefore our data presentation has changed. We will now only report weekly changes in the number of bivalent boosters administered in Revere.
Data on the primary series monovalent vaccines will be archived and from now on, data on bivalent boosters will be updated weekly.
Follow this link here for the archived presentation: Revere COVID-19 Vaccination Data Story
UPDATED 10/18/23
Data for bivalent booster vaccines on a municipal level is discontinued by the State Department of Public Health as of October 5th, 2023. Data on statewide COVID-19 vaccinations are now part of a larger immunization dashboard here: Viral Respiratory Illness Reporting
Click here to view the public archive of the Number of Bivalent Vaccines Administered
Click here to view the public archive of Rates of Bivalent Vaccinations among Age Groups