COVID Vaccine Information
This page will be updated on an ongoing basis about Revere vaccination information, locations, and process.
COVID-19 Vaccine Resources
Updated Vaccination Clinics
Be in touch with your local hospital to connect about possible availability.

For more Vaccine options at the state visit The COVID-19 Vaccine Finder at vaxfinder.mass.gov, with over 900 locations listed across the state. Or call 2-1-1.
Pharmacies Booking Vaccine Appointments
Revere Board of Health Vaccination Clinics:
781-286-8182
Mystic Valley Elder Services is still offering transport assistance: 781-324-7705
Homebound Individuals
Any individual who has trouble getting to a vaccine site is eligible for the state's homebound program. Call (833) 983-0485 Monday through Friday from 9 AM to 5 PM to register for an in-home vaccination. Translation is available. After registering, individuals will be called within five business days to schedule an appointment. The Homebound Program is primarily using J&J. More information on the Homebound Vaccination Program here.
Vaccinated Business Program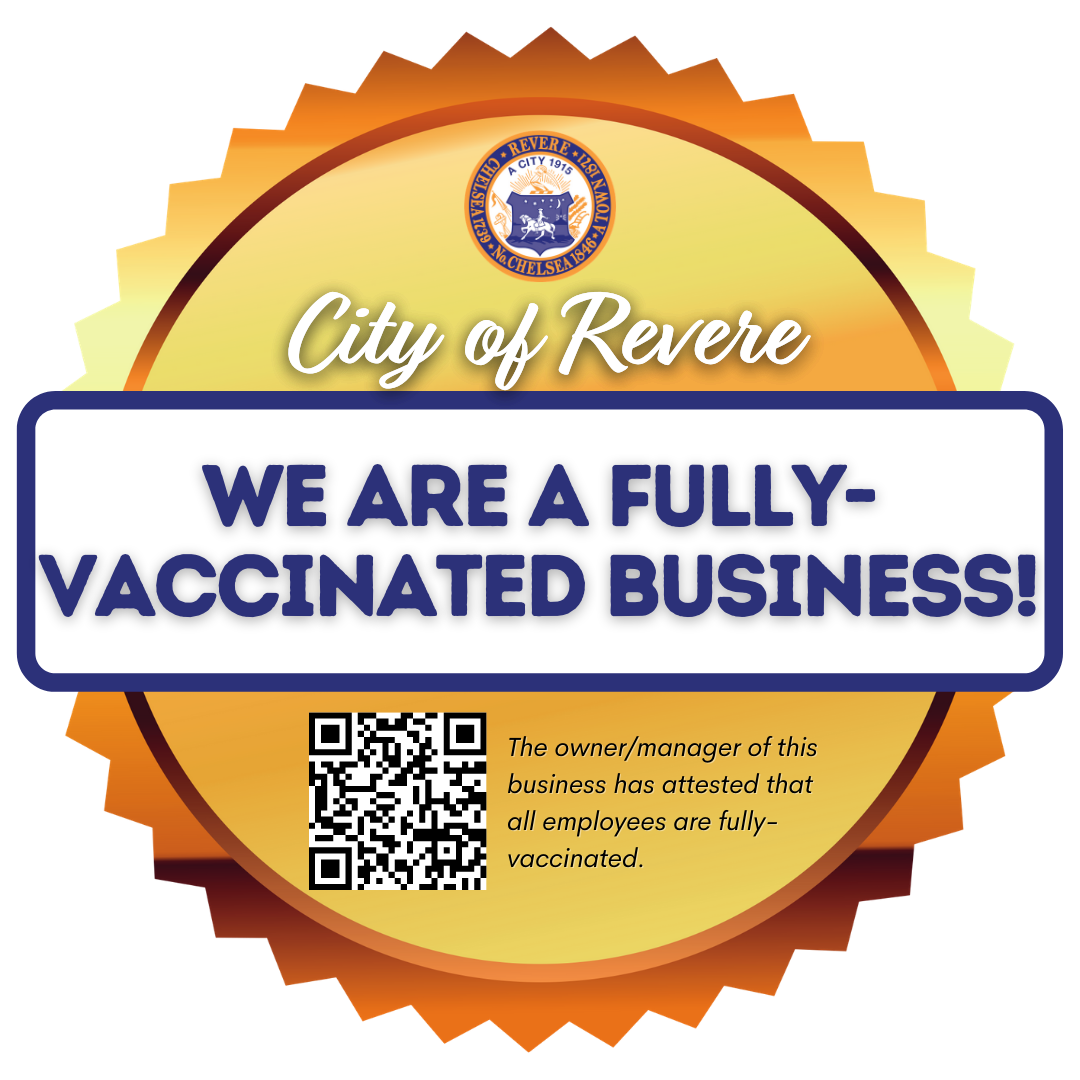 The city has launched a new Vaccinated Business Badge Program.
Updated Vaccine Phases
All residents aged 12* years of age and older are eligible to receive the vaccine.
*12 to 17-year-olds are only eligible to take the Pfizer vaccine.
To sign up for City Updates go to the top of this page and click "Subscribe".
Revere Vaccination data
The data included below is provided to the public by The Commonwealth of Massachusetts. This page will be updated weekly as new data is provided.
September 17, 2021 Update
| | | | | | | |
| --- | --- | --- | --- | --- | --- | --- |
| | Total 1st dose received | | % 1st dose | | Total Fully Vaccinated | |
| | 45,066 | | 74% | | 40,047 | |
The City of Revere is utilizing this data to inform direct outreach, messaging, and strategic initiatives to overcome existing disparities in vaccination.
Demographic Breakdown
Contextual note regarding vaccine phasing distribution: Front Line workers are 68% White, and between 69 and 75% female. Massachusetts teachers are 92% white. We also know that life expectancy has gender, racial/ethnic, and income disparities, which impact the data presented.
NOTE: State population data does not include Other/Unknown population, while vaccination data does. So while Other/Unknown is included in the breakdown of data by race/ethnicity, it is excluded from the share of population, since that information is missing from the state.
NOTE 2: The State is using population data for Revere that accounts for 60,849 people in the City. While this appears to be a bit more than most other official sources of population for Revere, for the purposes of this page that is the number we are using for the sake of consistency.