City of Revere Healthy Living
The City of Revere's Public Health Department is committed to promoting health equity so that all Revere residents have opportunities to lead healthier lives, raise healthier families, and build a healthier community. We can succeed by leveraging local, regional, and state partnerships, utilizing evidence-based practices, and actively listening to the communities we serve.
Sandler Square Summer Mobile Market
Join us this Summer for the Sandler Square Summer Mobile Market! Fresh vegetables, traditional music and entertainment, and local resources such as SNAP and WIC. Sponsored by the City of Revere, Women Encouraging Empowerment (WEE), TDI Mass Development, The Neighborhood Developers, the Trustees, and Mass in Motion. Saturdays at Sandler Square from 10:00 AM-1:00 PM, and the schedule is as follows:
June 10, 2023
June 24, 2023
July 8, 2023
July 22, 2023
August 5, 2023
August 19, 2023
September 2, 2023
September 16, 2023
September 30, 2023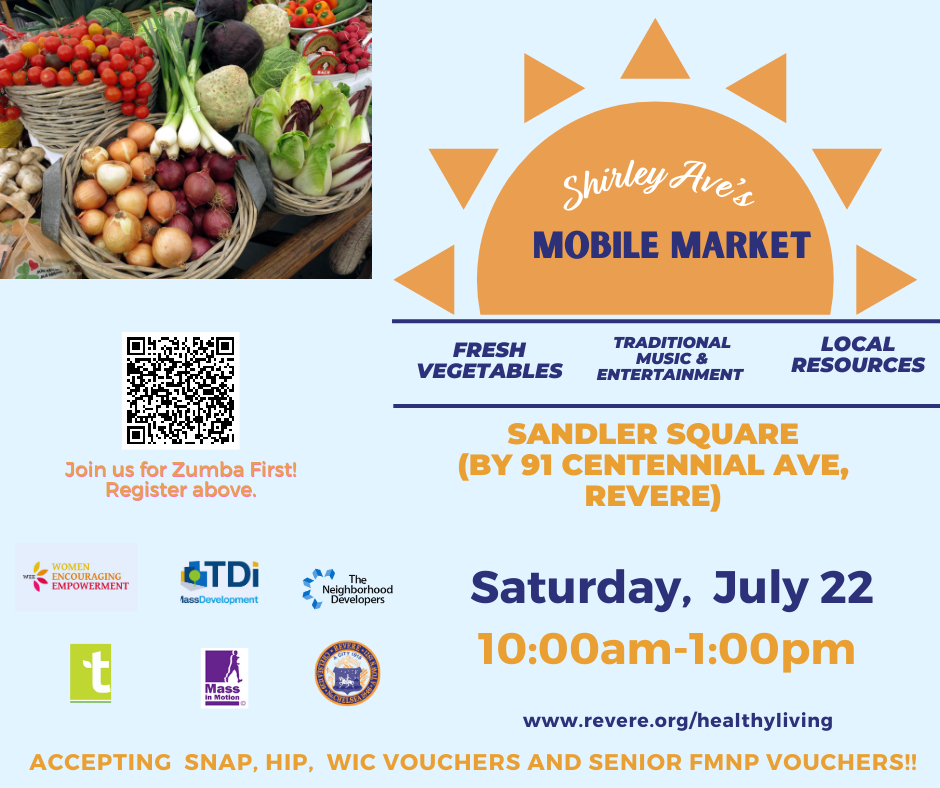 Sandler Square Mobile Market Schedule
Resources and Documents
Local Food Resources
Please see the schedule below for weekly food pantries and other helpful food resources.
Cambridge Health Alliance's Monthly Mobile Market
The Cambridge Health Alliance organizes a monthly event that occurs at the Revere Care Center, situated on 454 Broadway in the rear parking lot. This event happens from 10:30 AM to 11:30 AM every Saturday when it's scheduled. It's open to everyone, offering free fresh fruits and vegetables. To learn more, visit https://www.challiance.org/community-health/cha-revere-mobile-market.