Ongoing Initiatives
Saugus River Watershed Regional Adaptation Plan
Flooding along Mills Ave. in Revere. Photo: Loretta Le Centra
The impacts of coastal storms, sea level rise, and other climate hazards are not beholden to City or Town borders. While the communities of Lynn, Revere, Saugus, Everett, and Malden are unique in their neighborhoods, cultures, and identities, they share the impacts of coastal hazards associated with the Saugus River Watershed. A regional problem requires regional partnerships and solutions. This is why these five communities along with state agencies MassDOT, Department of Conservation and Recreation, and the MBTA have come together to conduct a vulnerability study that will give the region a more holistic understanding of current and future coastal risk within the Saugus River Watershed. This Saugus Pines River Regional Advocacy for Resilience (SPRARR) was established in 2021 with a common vision to collaborate for a more resilient region.
Understanding and Managing Risk
If you are a resident of one of the five Saugus River Watershed communities, you have likely already experienced the impacts of coastal hazards – whether that be flood damage to your home or property, disrupted transportation routes, or beach and coastal park closures. Risks associated with flooding, erosion, and storms are expected to be exacerbated by climate change and sea level rise. This is why it is important to understand the region's top vulnerabilities so an effective adaptation plan can be developed to reduce risk now and into the future.
The main goals of the Coastal Vulnerability Assessment and Adaptation Plan are to:
Identify potential flooding impacts to public infrastructure and natural resources.
Provide data on likely future flooding scenarios.
Identify potential adaptation strategies and funding sources to reduce risk.
Develop an economic impact assessment.
Increase public outreach and education on coastal hazards and solutions.
Massachusetts Coast Flood Risk Model (MC-FRM) flood risk probabilities for the year 2070. The MC-FRM models the annual percent chance (probability) that a location will get wet with salt water during a coastal storm event. These probabilities each correspond to a color in the map legend.
Beachmont Fire Station Concept Plan
The City of Revere has identified a city-owned, decommissioned fire station as a potential facility to be repurposed as a community arts center and has engaged the MAPC Arts & Culture Department to provide technical assistance in a community visioning process. This process will culminate with a Concept Plan authored by MAPC to guide the successful and sustainable implementation of a community space, informed by a thoughtful and participatory community engagement process.
MAPC will work with the City of Revere to convene stakeholders, establish a Project Working Group and develop and employ a community engagement strategy to understand the community's needs and priorities for new community space in the City. With guidance from the Project Working Group, MAPC will develop this engagement to solicit feedback that represents the diverse communities living and working in Revere. Complementing this insight, MAPC will explore relevant case studies and investigate relevant operating models to inform use and programming recommendations for a future center.
If you are interested in the potential uses of the Beachmont Fire Station, please complete our Community Survey.
Beachmont Fire Station Stakeholder Meeting Slides
City of Revere Hazard Mitigation Planning 2021
Coastal Resilience Feasibility Study for Riverside and Point of Pines - MVP Action Grant
The Point of Pines/Riverside Area Coastal Resiliency Feasibility Study is an integrated coastal protection initiative for the City of Revere. The study consists of six memorandums aimed to evaluate the flood vulnerability and potential mitigation options for the City.
Coastal Resilience Feasibility Study for Riverside and Point of Pines - Final
Revere is An MVP Community
Master Planned Sites
Waterfront Square. Waterfront Square, which includes contiguous parcels spanning from Revere Street to the MBTA Wonderland Station along Revere Beach, is one of the Boston area's fastest growing neighborhoods. The development primarily consists of high-end residential complexes (two of which are already leasing) that are complemented by hotel and restaurant projects.
Suffolk Downs. Located along the Revere-Boston border, this 161 acre former horse racing destination will be transformed into a series of transit-oriented, mixed use neighborhoods. With 51 acres in Revere, the site's opportune location near two Blue Line MBTA stations will add substantially to the city's housing stock, commercial and office space, and active recreational and open space.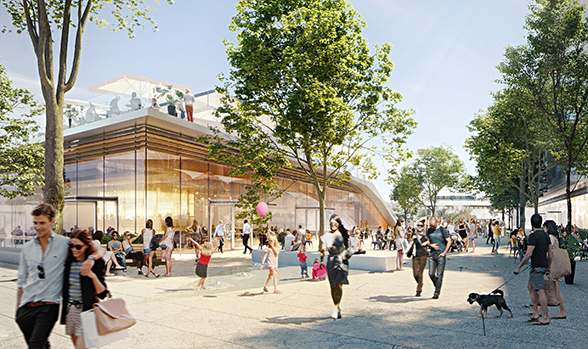 Districts
Creative District
To complement investment along Waterfront Square, the City is planning for further redevelopment efforts along the southern section of Revere Beach between Eliot Circle and Shirley Avenue. This new Creative District will contribute to the ongoing revitalization of historic Revere Beach into an attractive and robust commercial and recreational destination for residents, visitors, and businesses alike.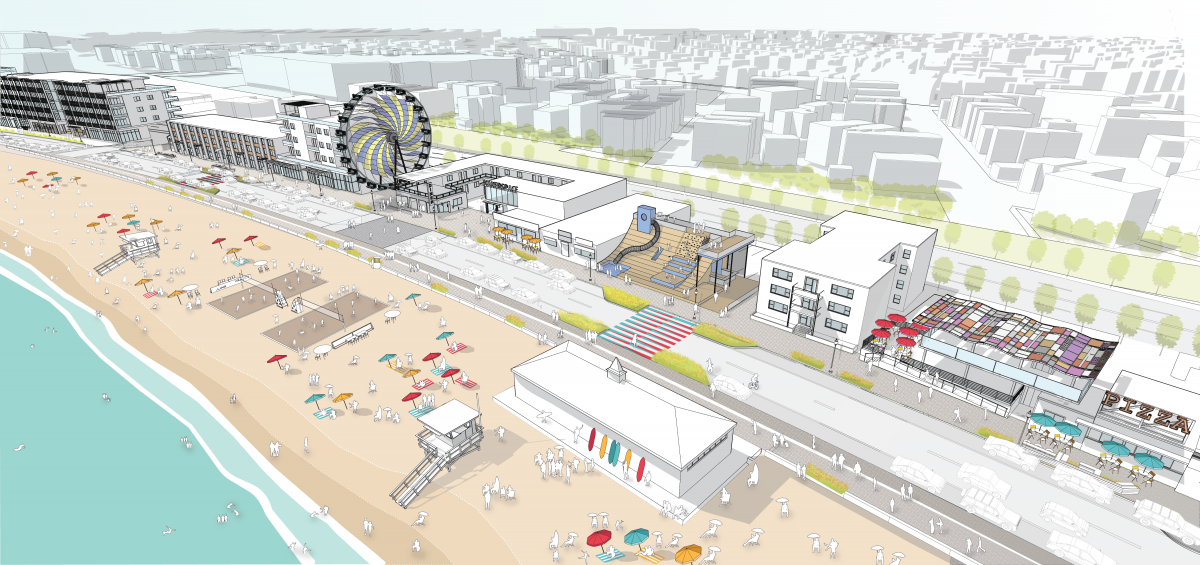 Broadway Business District.
Revere's Broadway corridor functions as a central civic, commercial, and travel artery for the city. Broadway is home to City Hall, multiple public and civic institutions, as well as an eclectic mix of small businesses and residences. Broadway constitutes a segment of MA-107 and provides direct, convenient connections to the neighboring municipalities of Saugus, Lynn, and Chelsea.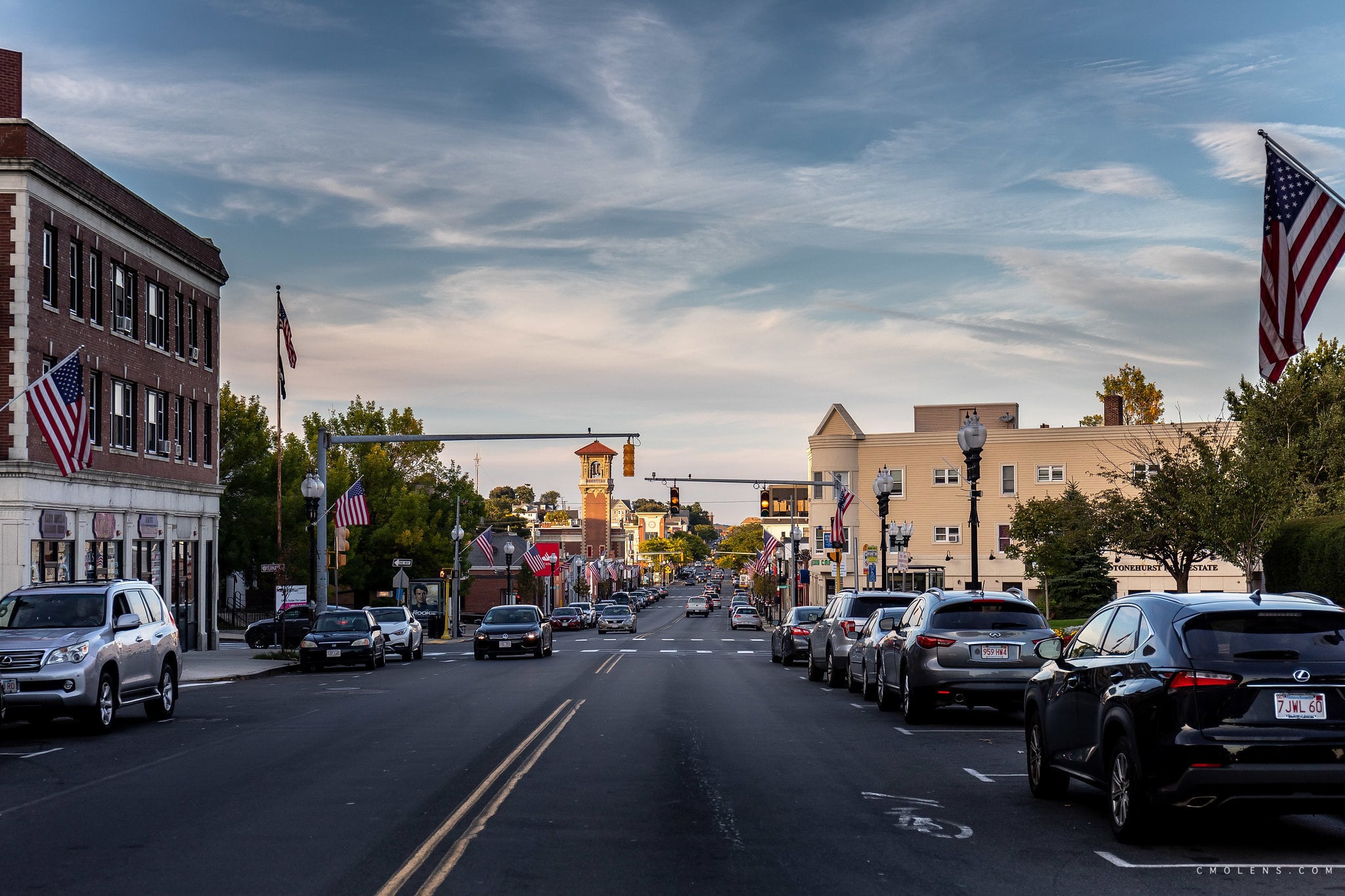 Shirley Ave.
The Shirley Avenue district is a vital neighborhood commercial corridor that links Bell Circle and Revere Beach and provides connections to the MBTA's Blue Line at Revere Beach Station. Shirley Avenue's designation as one of the state's Transformative Development Initiative (TDI) Districts in 2022 has leveraged substantial technical assistance along with public and private financing to support its ongoing revitalization.