Water and Sewer Billing Department
The Water and Sewer Billing Department provides accurate and complete billing information to the residents of Revere. We strive to provide the best customer service that will exceed all expectations by listening to our customers and responding to their needs in a timely, professional, and courteous manner.
About Us
The Water & Sewer Billing Office invoices water and sewer customers on a systematic basis. The office is responsible for issuing all water and sewer bills for the city's users of the water distribution and wastewater collection systems. Usages are determined from meter reads received digitally through our SENSUS software system. Our goal is to eliminate estimated readings throughout our invoicing system by working with residents to resolve transmission errors. Bills are issued monthly to commercial properties and quarterly to residential properties. Approximately 55,000 invoices are issued annually.
2022 Water & Sewer Senior Discount Program
2022 Water & Sewer Senior Discount Program
The period to apply for your 2022 discount will begin on Tuesday, February 1st, 2022 through September 1st, 2022 .
All forms that are received MUST be accompanied by a copy of Massachusetts state driver's license or picture ID.
To Qualify
Applicant must be owner of the record/occupy the property and Water bill & Tax Bill must be in his or her name.
Applicant or spouse must turn age 65 during the calendar year to which the discount will be applied.
The discount applies only to the owner of one, two and three family dwellings.
Applicant must provide a valid Massachusetts state driver's license or picture ID that shows the date of birth and property address. ****Additional documentation may be required****
The applicant must complete and return the application form no later than September 1st of the calendar year the discount is in effect.
Discount is only applied to one billing period annually.
Please call 781-286-8145 with any further questions.
Pay My Water Bill
The City of Revere encourages you to pay your Water and Sewer bill online for ease and efficiency. You can also pay your bill in person in the Collector's Office on the first floor of Revere City Hill, 281 Broadway, or over the phone by calling 781-286-8120.
Request a Final Water Bill
To request a Final Water Bill prior to property sale:
Make your request online.
Visit www.revere.org/permitting If you don't have an account, create one as either a Property Owner or Citizen/Resident. The Apply for a Permit, and select "Final Water Meter Read Request" from the Application Type dropdown list. After you've finished answering the questions, submit your request. No payment will be due at this stage.
If the Water and Sewer Billing Department approve your request, you will receive an automated email noting that approval, and requesting payment.
After payment by credit card or e-check, you should receive a copy of the requested final bill by email.
Apply for a Final Water Bill
Water and Sewer rates
Water & Sewer Rates effective July 1st, 2022 are:
| Type | Water Rate | Sewer Rate | Combined Rate |
| --- | --- | --- | --- |
| Residential | $4.23/HCF | $12.77/HCF | $17.00/HCF |
| Commercial | $7.02/HCF | $21.06/HCF | $28.08/HCF |
| Residential | $0.00565/GAL | $0.01707/GAL | $0.02272/GAL |
| Commercial | $0.00938/GAL | $0.02816/GAL | $0.03754/GAL |
HCF= 100 Cubic Feet
Relevant Ordinances
Water/Sewer Forms
It is the customer's responsibility to notify the City of any mailing address changes. Any utility changes must be confirmed in writing either by letter, fax or visiting our office during normal business hours.
Water Saving Tips
This section provides tips for saving money on your water bill.
City Infrastructure Updates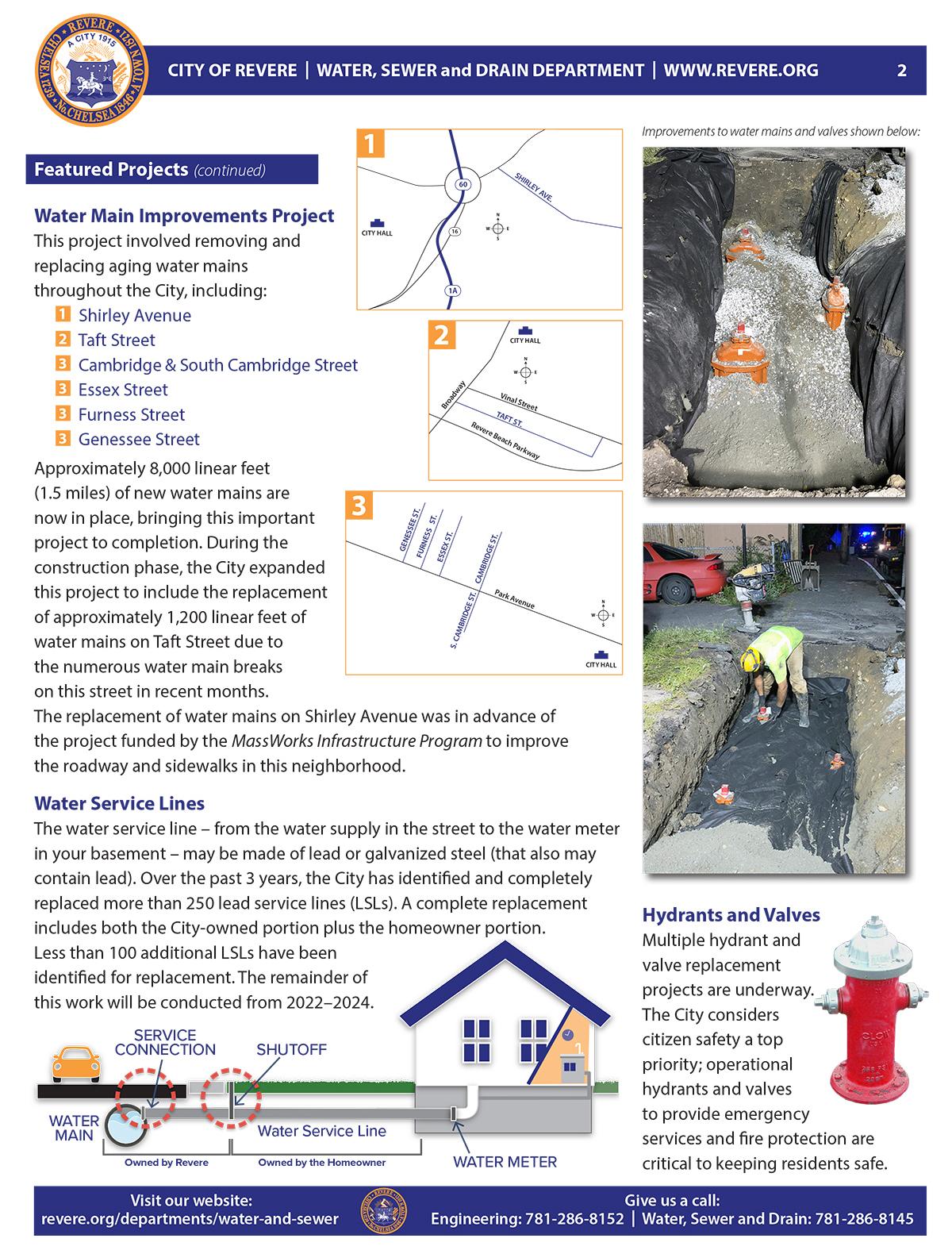 Other Services and Terms
Request a water service turn-on/shut-off
Frequently Asked Questions
Is water in Revere safe to drink?
All water in Revere is treated so it is safe to drink.
Where can I find tips for water conservation?
Where can I find information about the water meter replacement program?
Is each property required to have a separate sewer service?
Contact Information & Hours
Mon.-Thur. 8:15am-5pm
Fri. 8:15am-12:15pm
Don Ciaramella
Chief of Infrastructure and Public Works
Kori O'Hara
Special Assistant of Water and Sewer