A Shot at a Healthy Future
$50,000 in scholarships!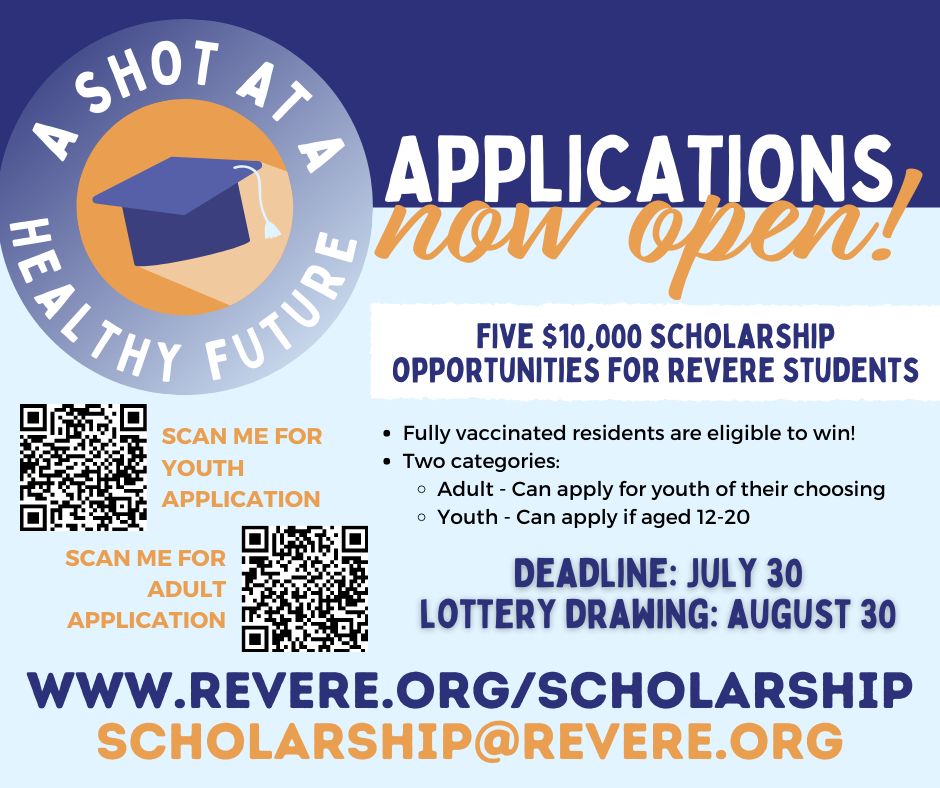 Here's your chance to win a $10,000 scholarship for one lucky Revere student. Don't Miss Your Shot!
Two Lotteries
The Vaccinated Scholarship program involves two separate lotteries:
Lottery 1. Youth Edition
Three lucky youths age 12 to 20 who can (1) show proof they live in Revere; and (2) show proof of vaccination will qualify for $10,000 Scholarships to be held in a Trust and paid directly to a college, university, community college or trade school of their choice.
Lottery 2. Adult Edition
Two adults who don't qualify for the youth lottery will also win $10,000 Scholarships for two lucky young people up to age 18. Upon submission applicants must name the youth to receive the scholarship. The applicant must be a Revere resident and be willing to show proof of vaccination. The youth to win the scholarship must also be a Revere resident.
Applications Now Closed
The deadline for applications was July 30. Those who received a first shot must have proof of a second shot to be eligible for the August 30 drawing.
Lottery Rules
Questions
Please email or call 3-1-1 with any questions.
Frequently Asked Questions
Is the Vaccine Safe for Young People?
I am currently a student at a university. Can I apply?